PMX is seeking an Expert-level ORSA to support the Joint Interoperability Test Command (JITC), a wing of the Defense Information Systems Agency (DISA). This is currently a contingent hire position – pending contract award.
Basic Requirements as an ORSA:
Formulates and applies mathematical modeling, simulation, statistical design, and other optimizing methods using various software packages (JMP, a family of statistical discovery products, is the current software tool of choice at JITC) that have direct application to the T&E of IT/NSS.
Acts as an expert in the application of SBTD to T&E disciplines in order to provide valuable tactical, operational, and strategic information to senior leaders and decision-makers of the system. The resulting analysis and documented results often support resource allocation, optimal flow analysis of new technology into theater, and battlespace transition analysis. Will routinely meet with JITC's Command Section Technical Advisor and his own Senior Management to help ensure that JITC testing programs/projects have testing methodologies that have been considered for integration of various SBTD procedures and processes including DoE, various operations research techniques, statistical rigor, the use of NIST's ACTS software tool designed for IT testing, and regression techniques. Leads the incorporation of various SBTD techniques and DOE other statistical and analytical methods into C5ISR, AIS, and IT/NSS Test and Evaluation Master Plans and other various test-planning documents.
Executes SBTD methodologies during various phases of T&E. Analyzes and interprets SBTD results with respect to the overall system operational effectiveness and operational suitability. Identifies, develops, and analyzes technical and operational metrics to quantify effectiveness of operations to support the objectives and effects outlined in the T&E plan, including task and effects assessments.
Assists test teams during test planning, test execution, data analysis, and formal report development. Provides expertise for defining problems, developing the analysis plan, gathering and reviewing data, constructing the model(s), testing and evaluation, analyzing the results, developing insights, and documenting the results.
Recommends and implements processes that support quantitative and qualitative analysis, as appropriate. Formulates mathematical and/or simulation models of test problems in support of T&E of C5ISR, AIS, and IT/NSS, relating test constants and variables, restrictions, alternatives, constraints, assumptions, conflicting objectives, and numerical parameters. Integrates system T&E information from various sources for efficient multi-stage design, statistical modeling, and, as applicable, analyses including incorporation of applicable statistical confidence intervals and sample sizing into test methodologies. Analyzes discrepancies in T&E service or performance and makes recommendation for test conduct updates.
Produces clear and concise data analysis and conducts trend analyses of various data. Compiles reports, charts, and tables based on established statistical methods.
Key Responsibilities as an ORSA Principal:
Demonstrates expertise in a variety of the field's concepts, practices, and procedures.
Relies on extensive experience and judgment to plan and accomplish goals.
Performs a variety of complex tasks. A wide degree of creativity and latitude is expected.
Leads and directs the work of others. Typically reports to top management or executive. May provide consultation on complex projects and be a top-level contributor/specialist.
Must be expert at problem solving, identifying risk, and communicating results and recommendations.
Skills & Experience:
Requires a Doctorate and at least 4 years of experience or a Master's degree or at least 10 years of experience.
The degree must be in a relevant technical curriculum and experience must be related to the job duties. Relevant technical degrees include ORSA or Applied Mathematics.
Related certifications in the area of specialization may be substituted for 1 year of experience.
Examples of relevant Government or industry training include, but are not limited to, DAWIA Test and Evaluation Level 1/2/3 certification, ENG Level 1/2/3 certifications, CTEP certification, and applicable United States Federal or DoD school training and certification on a specific system, network, or technology.
Location: Ft. Huachuca, AZ or Ft. Meade, MD
Department: JITC, DISA
Security Clearance Level: Top Secret preferred, minimum Secret
Benefits: At Programatics, we believe success lies in the strength of our people. We strive to promote a balance between work and family as we offer a comprehensive benefit package to sustain and enhance quality of life for our employees and their families.
• Medical, Dental, Vision, and Prescription Insurance
• Company Sponsored Short-Term Disability Plan
•Company Sponsored Long-Term Disability Plan
• Company Sponsored Life Insurance
• 401(k) Retirement Plan with Company Matching
• Flexible Spending Account
• Continuing Education Benefit
• Pre-Tax Transit Benefit
• Paid Time Off
• Paid Federal Holidays
Military Veterans and individuals with disabilities are encouraged to apply!

PMX proudly participates in the Department of Labor's Hire Vets initiative and received the Agency's highest award, the Platinum Medallion, in 2020 for our Veteran programs.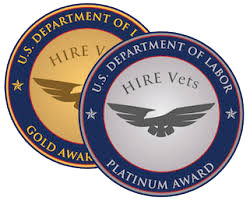 EEO Statement: Programatics LLC is an Equal Opportunity Employer. Employment decisions are based on merit and business needs, and not on race, color, national origin or ancestry, gender, sexual orientation, age, religion, creed, physical or mental disability, marital status, political affiliation, or any other factor protected by law.