Role Overview:
PMX is seeking experienced Scheduling Specialists to support the National Security Agency with full life cycle contracting requirements.
Key Responsibilities:

• Assist in defining and implementing schedule software (MS Project, Primavera, or specific program mandated software, etc.) management processes and procedures.
• Implement schedule version control processes, policies and procedures.
• Assist in maintaining and developing the environment for the overall Master Program/Project Schedule and or the integration of multiple project schedules into an overall Master Program Schedule.
• Maintain the schedule product build, staging, testing, deployment and integration.
• Define and implement schedule configuration management processes and procedures; such as creating product build scripts and procedures, and integrate those scripts with the schedule build process.
• Develop schedule version control processes, policies and procedures and ensures that they are followed on development or operational schedule development and implementation projects.
• Facilitate weekly meetings.
• Provide recommendations to the program manager for allocation of management reserve to address resource/schedule constraints.
• Coordinate a cross-walk of milestones and interdependencies among projects and/or functional areas (engineering, manufacturing, test, quality control, etc.).
Skills & Experience:
• 12+ years' experience as a Scheduler in programs and contracts of similar scope, type, and complexity required.
• Must have at least 2 years of demonstrated experience managing a schedule for an engineering program involving hardware and software development and multiple sub-components using MS Project or Primavera.
• Must have successfully completed an advanced level MS Project or Primavera course and have demonstrated experience with MS Project and or Primavera.
• Certification in either the Association for the Advancement of Cost Engineering (AACE) and or Planning and Scheduling Professional (PSP) is required.
• Bachelor's degree in a technical or business discipline from an accredited college or university is required.
• A Master's degree may be substituted for two (2) years of experience, reducing the requirement to ten (10) years of experience. Four (4) years of additional scheduling experience may be substituted for a bachelor's degree.

---
| | |
| --- | --- |
| Location: | Ft Meade, MD |
| Department: | NSA |
| Security Clearance Level: | Must possess active TS/SCI and minimum CI poly |
---
Benefits: At Programatics, we believe success lies in the strength of our people. We strive to promote a balance between work and family as we offer a comprehensive benefit package to sustain and enhance quality of life for our employees and their families.
• Medical, Dental, Vision, and Prescription Insurance
• Company Sponsored Short-Term Disability Plan
•Company Sponsored Long-Term Disability Plan
• Company Sponsored Life Insurance
• 401(k) Retirement Plan with Company Matching
• Flexible Spending Account
• Continuing Education Benefit
• Pre-Tax Transit Benefit
• Paid Time Off
• Paid Federal Holidays
Military Veterans and individuals with disabilities are encouraged to apply!
PMX proudly participates in the Department of Labor's Hire Vets initiative and has received the Agency's highest award, the Platinum Medallion, for our Veteran programs.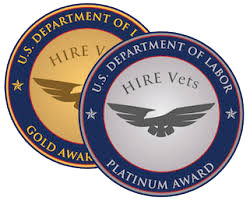 EEO Statement: Programatics LLC is an Equal Opportunity Employer. Employment decisions are based on merit and business needs, and not on race, color, national origin or ancestry, gender, sexual orientation, age, religion, creed, physical or mental disability, marital status, political affiliation, or any other factor protected by law.