Role Overview:
PMX is seeking experienced Contract Maintenance Specialists to support the National Security Agency with full life cycle contracting requirements.

Key Responsibilities:
• Update burn rates using corporate template; conduct burn rate analysis and track funding run out dates.
• Review invoices in accordance with the most recent BM&A Invoice Review Desk Guide and contract clauses; report any discrepancies to Government Contract Manager (GCM).
• Draft modification to existing Technical Task Orders (TTOs).
• Refine requirements with COR-T to ensure within contract scope; draft TTOs for CM.
• Prepare TTO/Delivery Order funding tables.
• Prepare de-obligation forms including all applicable attachments.
• Review/track requisitions for accuracy and communicate to BFMs corrections needed in order to adhere to GCM's plan.
• Track contract funding against DoD/BM&A goals for commitment, obligation, and outlay.
• Track contract costs at the TTO, fundcite/CLIN/SLIN, and budget center levels.
• Analyze estimates provided by contractors to determine if estimates are in alignment with CM guidance and burn rate analysis.
• Analyze QAR data to ensure in line with burn rate analysis prior to COR submission/approval.
• Review spend plan data to ensure contracts have sufficient funding planned.
• Assist with the validation of ULO and TAR lines for contracts.
• Identify cost overruns and underruns on contracts.
• Track award fee pool and calculate earned fee for the period as well as any incurred interest.
• Assist in preparing contract funding estimates for Continuing Resolutions (CRs) and for spend plan build.
Skills & Experience:
• 4+ years' DoD, IC, or commercial experience in contract management or finance is required.
• In lieu of a degree, Certified Federal Contracts Manager (CFCM) certification or DAWIA Level I in both Contracting and Program Management plus an additional three (3) years of directly related experience for a total of seven (7) years may be substituted.
• In lieu of certification, an additional two (2) years of directly related experience for a total of nine (9) years may be substituted.
• Experience in tracking of programs/project/contract status in areas of cost, schedule and performance is required.
• Experience using NSA's financial management system and its interfaces (currently FACTS and CMIS) is preferred.
• Intermediate proficiency with MS Excel is preferred to include demonstrated use of pivot tables, slicers, and pivot charts.
---
| | |
| --- | --- |
| Location: | Ft Meade, MD |
| Department: | NSA |
| Security Clearance Level: | Must possess active TS/SCI and minimum CI poly |
---
Benefits: At Programatics, we believe success lies in the strength of our people. We strive to promote a balance between work and family as we offer a comprehensive benefit package to sustain and enhance quality of life for our employees and their families.
• Medical, Dental, Vision, and Prescription Insurance
• Company Sponsored Short-Term Disability Plan
•Company Sponsored Long-Term Disability Plan
• Company Sponsored Life Insurance
• 401(k) Retirement Plan with Company Matching
• Flexible Spending Account
• Continuing Education Benefit
• Pre-Tax Transit Benefit
• Paid Time Off
• Paid Federal Holidays
Military Veterans and individuals with disabilities are encouraged to apply!
PMX proudly participates in the Department of Labor's Hire Vets initiative and has received the Agency's highest award, the Platinum Medallion, for our Veteran programs.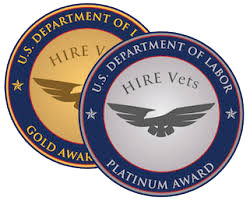 EEO Statement: Programatics LLC is an Equal Opportunity Employer. Employment decisions are based on merit and business needs, and not on race, color, national origin or ancestry, gender, sexual orientation, age, religion, creed, physical or mental disability, marital status, political affiliation, or any other factor protected by law.