Essential Duties & Responsibilities
Role Overview: PMX is seeking a talented Data Trainer or Integrator to support the Data Analytics Branch at Defense Intelligence Agency's Deputy Director for Global Integration (DDGI).
Responsibilities: Assess, design, and conceptualize training scenarios, approaches, objectives, plans, tools, aids, curriculums, and other state of the art technologies related to training. Identify the best approach training requirements to include, but not limited to hardware, software, and simulations.
Skills & Experience Role
Required:
• Possess a minimum of five (5) years of relevant experience with at least a portion of the experience within the last two (2) years.
• Have a minimum of a Bachelor's degree in a STEM field with at least two college level courses in mathematics, statistics, quantitative economics, and/or computer science.
• Experience leading organizational change management and training solutions for complex, data-driven initiatives.
• Experience leading instructor-led training.
• Experience interfacing with large groups of external senior-level personnel without supervision.
• Experience in curricula and course development in an academic or business environment on topics surrounding data.
• Excellent written & oral communication, research, and analytic skills.
Desired:
• Experience as a Data Analyst.
• Experience participating / leading data-driven initiatives.
• Experience with computer languages.
---
| | |
| --- | --- |
| Location: | JBAB, Washington, DC |
| Department: | DIA Headquarters, DDGI |
| Security Clearance Level: | Must possess Active TS/SCI with CI Poly |
---
Benefits: At Programatics, we believe success lies in the strength of our people. We strive to promote a balance between work and family as we offer a comprehensive benefit package to sustain and enhance quality of life for our employees and their families.
• Medical, Dental, Vision, and Prescription Insurance
• Company Sponsored Short-Term Disability Plan
•Company Sponsored Long-Term Disability Plan
• Company Sponsored Life Insurance
• 401(k) Retirement Plan with Company Matching
• Flexible Spending Account
• Continuing Education Benefit
• Pre-Tax Transit Benefit
• Paid Time Off
• Paid Federal Holidays
Military Veterans and individuals with disabilities are encouraged to apply!
PMX proudly participates in the Department of Labor's Hire Vets initiative and has received the Agency's highest award, the Platinum Medallion, for our Veteran programs.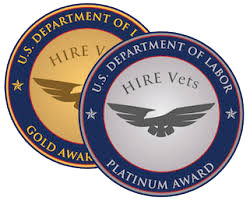 EEO Statement: Programatics LLC is an Equal Opportunity Employer. Employment decisions are based on merit and business needs, and not on race, color, national origin or ancestry, gender, sexual orientation, age, religion, creed, physical or mental disability, marital status, political affiliation, or any other factor protected by law.