Role Overview: PMX is seeking a motivated Manufacturing Technology analyst to support US Army's ManTech program to mature, demonstrate, and transition manufacturing technologies from a Research and Development (R&D) status to production in support of current and next-generation military weapons.
Essential Duties and Responsibilities:
• Support program planning; program management, execution and documentation; and stakeholder engagement across the Army's R&D community and its supporting industrial base.
• Employ business and engineering expertise in essential manufacturing technologies to enable affordability, sustainability, improved quality, shorter production lead times, enhanced productiveness, improved safety, and reduced risk in transitioning manufacturing technology to production.
• Identify potential manufacturing efforts to support the strategy; provide a preliminary assessment and evaluation of program and project cost, schedule, performance and transition plans; and to discern how the proposed efforts fit with in the overall ManTech strategy.
• Support the full-spectrum of the Army PPBE process by executing activities including but not limited to developing and submitting R-Forms, supporting the development of the Program Objective Memorandum (POM), and responding to requests for information.
• Develop proposals and conduct evaluation activities by collecting and disseminating ManTech proposal information, reviewing proposal information to ensure that it meets the requirements of the ManTech program and addresses the evaluation criteria, and coordinating such information with all concerned parties within the Army S&T enterprise.
Experience and Skills:
• Experience with Army or DoD manufacturing technology maturation processes.
• PPBE experience.
• R-form and Transition Agreement experience.
• Project Coordination experience.
• COVID Protocol in place—approved alternate work schedules or teleworking allowed.
• Experience with the Joint Defense Manufacturing Technology Panel is desired, not mandatory.
• Education Required: MA/MS Degree. Preferred: Engineering field.
• Required Experience: At least 10 years Army / DoD experienced Acquisition and / or Program Officers and / or with operational experience. ManTech experience, S&T initiatives, SBIR, STEM experience needed.
• Must be proficient with the Microsoft Office Suite.
• Travel may be required.
• Hours: 8-hour workday and 40-hour work week. Core hours are 0900-1500.
• Holidays: 10 Federal Holidays each year.
Primary Location: Arlington, VA
Department: US Army
Security Clearance: SECRET clearance required
PMX offers the full range of benefits including health, dental, disability, 401k, and more.
---
Benefits: At Programatics, we believe success lies in the strength of our people. We strive to promote a balance between work and family as we offer a comprehensive benefit package to sustain and enhance quality of life for our employees and their families.
• Medical, Dental, Vision, and Prescription Insurance
• Company Sponsored Short-Term Disability Plan
•Company Sponsored Long-Term Disability Plan
• Company Sponsored Life Insurance
• 401(k) Retirement Plan with Company Matching
• Flexible Spending Account
• Continuing Education Benefit
• Pre-Tax Transit Benefit
• Paid Time Off
• Paid Federal Holidays
Military Veterans and individuals with disabilities are encouraged to apply!
PMX proudly participates in the Department of Labor's Hire Vets initiative and has received the Agency's highest award, the Platinum Medallion, for our Veteran programs.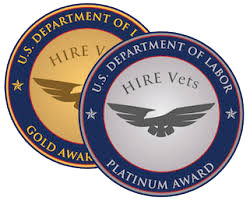 EEO Statement: Programatics LLC is an Equal Opportunity Employer. Employment decisions are based on merit and business needs, and not on race, color, national origin or ancestry, gender, sexual orientation, age, religion, creed, physical or mental disability, marital status, political affiliation, or any other factor protected by law.